Postdoctoral Dissertations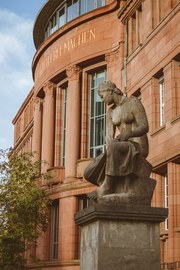 A considerable portion of our graduate students stay on after their Ph.D.s to do postdoctoral research. The post-doctoral qualification is called a Habilitation in Germany and is the traditional prerequisite for appointment to a professorship.
The following is an overview of all in-progress and completed postdoctoral dissertations written at the English Department since the 1990s.
The University of Freiburg's English Department has a well-deserved reputation for producing top-quality professors; those who have written their postdoctoral dissertation at our department have excellent chances of landing a full professorship. You can find a list of professors who studied in Freiburg on our page Professors.
(Updated: August 2021)
ENGLISH LITERATURE
---
In progress:
Fest, Kerstin. "A Peep Behind the Curtain: Theatrical Discourses in 18th-Century England"
von Contzen, Eva. "The Power of Enumerating: Towards a Literary History of Lists"


Completed:
KLUWICK, Ursula (2017). "Fictions of Fluctuation: Water in the Victorian Age" 
(Erstbetreuung: Prof. Dr. Virginia Richter, Universität Bern)
KOHLMANN, Benjamin (2017). "Writing the Common Good: Literature, The Economy, and the Idea of the Welfare State, 1830-1910"
(forthcoming) Speculative States: British Literature, Institutionality, and Reform. Oxford University Press.
MILDORF, Jarmila (2018). "Reading (Fictional) Dialogue: Text, Context, Cognition"
(Erstbetreuung: Prof. Dr. Merle Tönnies, Universität Paderborn)
NANDI, Miriam (2017). "Reading the Early Modern Diary"
(forthcoming) Reading the Early Modern English Diary. Palgrave.
OLSON, Greta (2008). "'Criminal Beasts' and the Rise of Positivist Criminology – From Shakespeare to Dickens"
(2013) Criminals as Animals from Shakespeare to Lombroso. Berlin, New York: De Gruyter.
---
Completed:
---
In progress:
Zimmermann, Ulrike. "Popularisations of the Eighteenth Century in Contemporary British Culture"

Completed:
FALKENHAYNER, Nicole (2017). "CCTV Beyond Surveillance"
(2018) Media, Surveillance and Affect: Narrating Feeling-States. London: Routledge.
KILIAN, Eveline (2002). "Gender-bending und die Konstruktion von Geschlecht in der englischsprachigen Gegenwartsliteratur – Theoretisches und literarische Perspektiven"
(2004) GeschlechtSverkehrt. Theoretische und literarische Perspektiven des gender-bending. Königstein/Taunus: Helmer.
LINGUISTICS
---
In progress:
Hansen, Beke. "A Sociolinguistic Description of First Nations Englishes in British Columbia"
Haser, Verena. "Pragmatic Impairment in Asperger's Syndrome"
Completed:
---
In progress:
Bohmann, Axel. "Locating Superdiversity: Communicative Repertoires of Refugees in Germany"
Honkanen, Mirka. "Derivational Productivity in World Englishes"
Lacoste, Véronique. "Haitians' Diasporic English: Development, Structure and Social Functioning"


Completed:
SAND, Andrea (2005). "Angloversals? Shared Morphosyntactic Features in Contact Varieties of English"
(forthcoming) Angloversals? Shared Morphosyntactic Features in Contact Varieties of English. Amsterdam: Benjamins


Administrative advising in the closing stages: