Fachschaft Anglistik
Welcome to the Homepage of the University of Freiburg's Fachbereich Anglistik
– aka Fachschaft Anglistik!
Are you looking for information about our program for first-years and other Fachschaft events, or just curious what we're up to all the time? Then you're in the right place!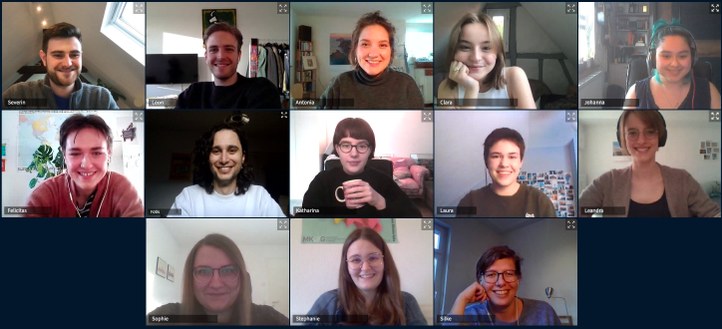 Your Fachschaft
What the heck is a Fachschaft?
As your Fachbereichsvertretung (departmental representatives), we take care of you, the students of the English Department. That doesn't mean we make you soup when you're sick, though; we're your first point of contact if you have questions or problems concerning your English studies, and we represent your interests in communication with the department and the university administration. Furthermore, we're your representatives in various areas of student government, e.g. in the university's Studierendenrat (student council) and in the Philological Faculty's Fakultätsrat (faculty council). You can find our official Geschäftsordnung (bylaws) here.
To ensure campus social life doesn't get neglected, we also organize various events, e.g. during first-year orientation week.
What we do
Fachschaft meetings
---
During the semester, the Fachschaft usually meets Wednesday at 18:00 c.t. in our room in the AStA-Haus, Belforstr. 24 (second floor). English students are always welcome to join us – just write us an email!
You can find records of our sessions here.
Ersti-Woche & Ersti-Hütte
---
In the week before the winter semester starts, we organize communal activities for first-years, like scavenger hunts, pub crawls, hangover brunches, or hikes.
Every winter semester - except during pandemics - the Fachschaft also organizes an Ersti-Hütte, a weekend trip for first-semester English students. For three days, we rent a cabin (Hütte) in the Black Forest and plan games and other activities to give you the opportunity to get to know each other and us in a relaxed, fun environment.
In the winter semester 2022/23, there will finally be another Erstihütte! We will travel from November, 18-20 to the group house Zum Hirschen in St. Blasien and spend a relaxed weekend in a hut to get to know you and us better! As always, more information is available on our Instagram account.

At the beginning of each winter semester, you can find current info about first-year orientation right here!
Book Sale
---
 You can find our inventory of books here.
Are you looking to buy your books for the summer semester cheaply? Or are you simply interested in some new reading material?

Then you are in luck — because the Fachschaft Anglistik's book sale is back (in a Corona-safe format)!

After checking our list of available books, you can simply schedule a time to drop by via

email

. The book sale takes place in room 4005, on the ground floor of KG IV.



The prices are negotiable. If possible, please bring the money in cash.

If you can't make these times, have any questions or already know that you will get a large number of books (so we can get them ready for you), just get in touch with the FSA on Instagram or via email.

Proceeds will go towards the Fachschaft Anglistik, so we can organize fun things for you in the future! 
Events
---
You can find all information about regular and/or upcoming events on our Facebook page, Instagram, or right here.
English Department Christmas Party
---
December has started and Christmas eve is only three weeks away – the most wonderful time of the year has begun! After a three-year break, the English Department, the Fachschaft Anglistik, as well as the maniACTs are jointly bringing back our famous Christmas party to embellish your pre-Christmas season even more!

All English Department students, faculty and staff are cordially invited to join us in the Peterhofkeller on Saturday, December 17 from 5.30 pm!

Be prepared for an amazing evening: there will not only be hot drinks including mulled wine, a waffle bar, more tasty snacks, and Christmas music, but also a surprise skit performed by the maniACTs!

We're looking forward to celebrating the holidays with you!
Pub Quiz
---

We're currently hosting a regular virtual pub quiz. All students of the English Department are warmly invited to join us! If you want to play, just join the quiz's ILIAS room, always published in our ILIAS folder shortly before the quiz starts.
You can always find information about upcoming pub quizzes on Facebook, Instagram, and here on the website.
Contact us!
We're always open to questions or concerns, whether via email at fachschaft@anglistik.uni-freiburg.de, via Instagram and Facebook or in person at our regular meetings. English students are welcome to attend any and all Fachschaft meetings.
Join us—we'd love to see you!