M.A. in English Language and Linguistics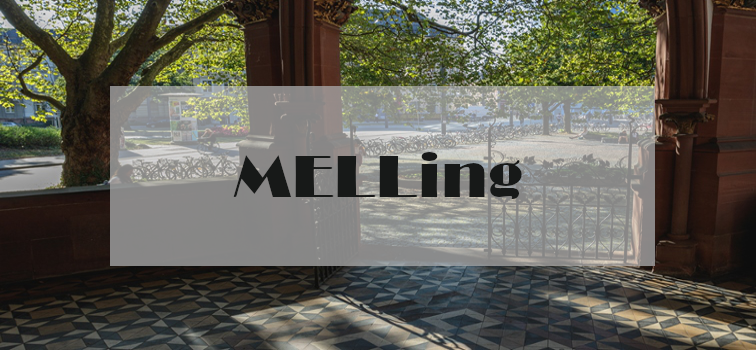 Based on the state of the art in contemporary linguistic theory, the Master of Arts in English Language and Linguistics – MELLing – focuses on the structure, use and variability of the English language. The program emphasizes present-day English but includes the essential stages in the historical development of the language. The use of digitized language corpora for linguistic description plays a major role, reflecting Freiburg's position as a leading international centre in corpus-linguistic research.


Program Content & Structure
Program Content
In the consecutive, research-oriented master's program, students develop an understanding of the structure, usage, and variability of the English language in its worldwide manifestations, as reflected by current research in general linguistics. The program's focus is on modern English(es); important details concerning English linguistic history are adequately covered. Furthermore, students can pursue their own individual interests, choosing between modules in Discourse and Communication, Psycholinguistics and Language Acquisition, as well as Corpus Linguistics and Language Technology.
Through participation in conferences and workshops alongside work on research projects, students are introduced to the standards of academic research and learn to use common methods of quantitative and qualitative linguistics in the context of empirical research. Especially successful students may see the master's program as an opportunity to begin an academic career; in other cases, the program prepares its students for a wide range of professions requiring global perspectives paired with linguistic competence, intercultural sensibility, and close attention to language, texts, and information (e.g. corporate communication, editorial work, public relations, etc).
Modules and Courses
This M.A. program is made up of modules, each focusing on a specific topic. The modules can consist of a variety of course types, including seminars, lectures and tutorials. Some courses are required and others are elective. The program is divided into the following modules:
The Structure of Modern English
Present-Day English: Regional, Social and Stylistic Variability
Linguistic Change and the History of the English Language
Transdisciplinary Perspectives (elective)

Discourse and Communication

Psycholinguistics: Language Acquisition and Bilingualism
Corpus Linguistics and Language Technology

English Language Proficiency
Research Methods and Practical Experience
Program Requirements and Sequence
Application – Admission – Enrollment
Language and Acceptance Requirements
---
Application
---
Applicants, please note:
From October 2023, Freiburg's Master of English Language and Linguistics – MELLing – established in 2007 and one of Germany's most popular and successful master programs in the field of English Linguistics, will be continued as one of five specializations in the newly established overarching master Linguistics: Language, Communication and Cognition. This reform follows a university policy of consolidating language-related master programs under one heading. The "English Language and Linguistics" specialization (Profillinie) will maintain the quality features of the MELLing program. This means that it:
provides you with a comprehensive, research-oriented introduction to linguistics focussed on the English language;
familiarises you with a wide range of state-of-the-art quantitative and qualitative research methods in linguistics;
is taught entirely in English by highly qualified staff, among them several internationally recognised experts in their fields of specialisation.

Additional quality features of the new program:
you can benefit from a wider range of regularly offered classes in research methods;

you can 

take one, or if you wish, two modules from other profiles (such as General Linguistics, German, Romance, Slavic Linguistics, or Cognitive Science).


Online application will be possible from March 2023. Apply for the Master of Linguistics, indicating that you want to enroll in the specialization English Language and Linguistics.
Contact
The coordinator of the MELLing program will be happy to advise you concerning the details of the application and admissions process as well as concerning the program in general.
Program Director:
Prof. Dr. Christian Mair
christian.mair@anglistik.uni-freiburg.de
☎ +49 761 203-3336
MELLing Coordinator: 
Dr. Mirka Honkanen 

she/her
mirka.honkanen@anglistik.uni-freiburg.de
☎ +49 761 203-3312
R 4016 | KG IV
Mailing Address:
M.A. in English Language and Linguistics
University of Freiburg
English Department | Chair of Prof. Mair
Rempartstr. 15
79098 Freiburg
Germany